Three-Session Course Taught via Zoom Tuesdays, June 7, 14, 28*, 2022 2:00 – 3:30 pm EASTERN US Time (Note Afternoon Section skips week of June 21) Registration Closed
THIS is the course you asked me to teach! 
Let's journey together deeply into the Major Arcana's esoteric meanings, gleaned from mythology, world cultures, beliefs, and archetypical symbols.  This journey can ultimately lead you to yourself. Here are some topics we will explore (and many more!) as we work through the 22 Major Arcana keys: *  What archetypical traits held by The High Priestess also reside in you? *  As you, like The Fool, embark on your journey to yourself, what tools serve you? *  If you have embodied the Death key in your life, what lessons did you learn? * How do Hebraic, Celtic, Egyptian, Christian, Greek, and Roman symbols come together on various keys to enhance the meanings of the keys? *  Tarot has been evolving since at least the early 1400s.  We'll discuss new findings about its history and impact throughout the centuries. Tarot speaks to each of us in both ways that are unique to our individual psyche, and through universal, archetypical symbols from world cultures, history, and beliefs.  We will explore in detail the richness of Tarot symbolism and how those symbols speak to each of us today. Please note:
this course does not teach you how to do readings, but instead creates a strong foundation of understanding of the history, culture, and beliefs through which Tarot developed.
  While we will discuss many decks, our focus will be on the Waite-Smith-Rider deck.  This course assumes you have some familiarity with Tarot.
There are two sections of this course – one in the afternoon and one in the evening (Eastern US time), so be sure to enroll in the section that best fits your schedule!
Register NOW
for
A Mystical Pilgrimage through the Major Arcana
.  
When I receive notice from PayPal that you've registered, I'll send you a confirmation

email within 24 hours requesting that you respond

so I know I have the correct email for you (this is important for me to send Zoom links and handouts!).
A Mystical Pilgrimage through the Major Arcana
is taught via Zoom video.  I'm so excited about this platform because it allows you to see me and the cards as we work with them. You'll need to create a free account on Zoom - it's easy.  Each week I'll send you a link to join the class and great handouts!  You'll be connected to me and your classmates from around the globe!  We meet for one and one-half hours each week for three weeks.
You can join from anywhere in the world!
PLEASE NOTE:  Course sessions are not recorded. My teaching style is highly interactive so questions are answered throughout each session, and student confidentiality is respected.  Register early!  Each course section requires a minimum of eight participants and a maximum of 25.  Also, please note that no refunds can be given after you have received the first handout for the first session.
The Waite-Smith-Rider deck is required for this course. 
Please be sure you get the EXACT deck that is packaged as the one in the photo.
There are other versions of this deck, but they lack the clarity and color of this deck.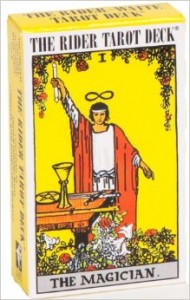 While there are hundred? thousands? of Tarot books today, Eden Gray's work is a classic.
It is required for this course.
I've been working from this book for nearly 40 years, and it is the most comprehensive companion to the Waite-Smith-Rider deck I know.  We also will discuss additional books.