Three-Session Course Tuesdays, November 28, December 5, 12, 2023 2:00 - 3:30 pm EASTERN US time; 7 pm London time Taught via Zoom! Prerequisite: Completion of "Unlocking the Mysteries of Tarot Afternoon Section Cancelled
This course is not only a continuation of "Unlocking the Mysteries of Tarot," but offers more depth to your working knowledge of reading Tarot. Please note that you must have completed my "Unlocking the Mysteries of Tarot" introductory course in order to enroll in this course. Also note that there are two sections of this course - one in the afternoon and one in the evening (Eastern US time), so be sure to enroll in the section that best fits your schedule!
In this course you'll learn how to: 1.  strengthen your intuitive skills in working with the keys 2.  incorporate other psychic tools into your work (crystals, pendulums...) 3.  use the keys for prompts in writing, story-telling, and more 4.  examine legends and myths associated with Tarot that are still relevant today 5.  work with the keys in meditation and more!
Deeper Mysteries of Tarot
is taught via Zoom.  Each week I'll email you handouts and a link to join the class, and you'll be connected to me and your classmates from around the globe!  We meet for one and one-half hours each week for three weeks. Here's what you're required to have in order to successfully complete
Deeper Mysteries of Tarot:
Because you have completed my Introductory course (
Unlocking the Mysteries of Tarot
), I assume you own the original Waite-Smith-Rider Tarot Deck and Eden Gray's "Complete Guide To Tarot" book (both pictured below.)  They are REQUIRED for this course.
Register NOW
for
Deeper Mysteries of Tarot
. 
When I receive notice from PayPal that you've registered, I'll send you a confirmation email within 24 hours.

PLEASE RESPOND to that email

so I know I have the correct email for you (this is important for me to send Zoom links and handouts!).

If you don't see the email, PLEASE CHECK YOUR JUNK FOLDER.
PLEASE NOTE:  Course sessions are not recorded. My teaching style is highly interactive so questions are answered throughout each session, and student confidentiality is respected.  Register early!  Each course section requires a minimum of eight participants.  Also, please note that no refunds can be given after I have emailed the handout for the first session.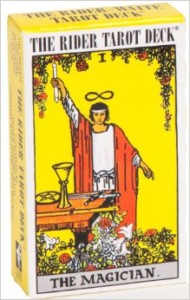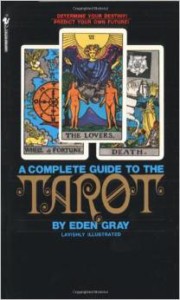 Additional books may be recommended!