Three-Session Course: Tuesdays, January 9, 16, 23, 2024 8:00 – 9:30 pm EASTERN US time
If you long to truly begin your journey into the depth and symbolism of Tarot, this introductory course is for you!  We focus on the tried and true meaning of the cards from antiquity.  I've been reading and teaching Tarot for nearly 40 years, and have taught hundreds to read Tarot.
My Unlocking the Mysteries of Tarot course teaches you how to begin your lifetime relationship with this oracle!  True Tarot brings together symbolism from many world beliefs, mythologies, and culture, and these serve as the foundation for your work, and lays the groundwork for your work with your intuition in future courses.
You'll be introduced in this intensive three-session course to:
The history of Tarot and why it matters in your readings now

The ethics of reading Tarot

How to work with the Major Arcana cards (called keys)

How to work with the Minor Arcana keys

How to interpret reversed keys

Symbolism from Christian, Jewish, Hindu, Celtic, Roman, Greek, and Egyptian beliefs and cultures throughout the keys

How to work with the Four Directions and Four Elements in Tarot symbolism

How key colors impact your interpretation

How numerology relates to Tarot meanings

How to create and interpret a three-key spread

How to create and interpret a Celtic Cross spread
AND MUCH MORE!!!
You'll have an opportunity to interpret readings I'll provide, and do practice readings.  Your homework each week will be fun and encouraging!
AND……
For a discounted fee of only $165, you'll be invited to join my advanced course: Deeper Mysteries of Tarot after you complete my Unlocking the Mysteries of Tarot course.  This course, offered soon after this introductory course is completed, enhances your ability to read and interpret the keys, using your intuition in conjunction with the keys.
Unlocking the Mysteries of Tarot is taught via Zoom video.  I'm so excited about this platform because it allows you to see me and the cards as we work with them.  Each week I'll send you a link to join the class and great handouts!  You'll be connected to me and your classmates from around the globe!  We meet for one and one-half hours each week for three weeks. You can join from anywhere in the world!
Register NOW for Unlocking the Mysteries of Tarot. 
When I receive notice from PayPal that you've registered, I'll send you a confirmation email within 24 hours.

PLEASE RESPOND to that email
so I know I have the correct email for you (this is important for me to send Zoom links and handouts!).
If you don't see the email, PLEASE CHECK YOUR JUNK FOLDER.
PLEASE NOTE:  Course sessions are not recorded. My teaching style is highly interactive so questions are answered throughout each session, and student confidentiality is respected.  Register early!  Each course section requires a minimum of eight participants.  Also, please note that no refunds can be given after I have emailed the handout for the first session.
Here's what you're required to have in order to successfully complete Unlocking the Mysteries of Tarot:
While there are hundreds? thousands? of Tarot decks today, the Waite-Smith-Rider deck is the ONLY deck from which I teach.  It's nearly 100 years old, and is based on an early deck from the Middle Ages.  Its universal symbolism is the most comprehensive, and is easy to learn.  Please be sure you get the EXACT deck that is packaged as the one in the photo. There are other versions of this deck, but they lack the clarity and color of this deck.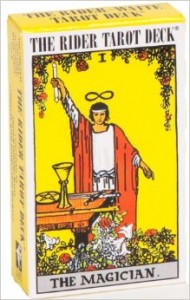 While there are hundred? thousands? of Tarot books today, Eden Gray's classic is the ONLY book from which I teach my introductory and advanced courses. It is required for this course and for my advanced course. I've been working from this book for nearly 40 years, and it is the most comprehensive companion to the Waite-Smith-Rider deck I know.